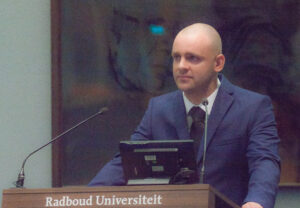 (copyright Erwin Heyl)
Dutch Dit is de website van dr. Emiel Maliepaard, opgeleid als sociaal en cultureel geograaf (Universiteit Utrecht & Radboud Universiteit) en sinds juli 2021 als postdoc onderzoeker verbonden aan de Nederlandse Defensie Academie / Faculteit Militaire Wetenschappen. 
Afgelopen jaren heb ik veel gewerkt op onderwerpen zoals seksuele gezondheid en mentale gezondheid, met name in het kader van respectievelijk seksueel geweld en seksuele minderheden (In 2018 gepromoveerd op een onderzoek naar biseksualiteit). Daarnaast heb ik geschreven over militarisme, vredesmonumenten, stadslandbouw, sekswerk, transnationalisme en meer.  Ik doe voornamelijk kwalitatief onderzoek, maar ben als Utrechtse geograaf goed geschoold in kwantitatief onderzoek. 
Struin gerust door mijn website en contacteer me via e.maliepaard1 [at] gmail.com voor vragen, opmerkingen, suggesties etc.
English Welcome to my website! I am originally trained as a social and cultural geographer but consider myself as a social scientist with a geographical perspective. I am currently working as  a postdoc researcher at the Netherlands Defense Academy. 
This website is predominantly targeted at a Dutch speaking audience, please visit the ' academic passport' area for all information in English: information about my recent and current studies, (peer reviewed) publications, research interests, memberships, and academic efforts. And observe that I do much more than only studying bisexuality and plurisexual individuals. Please do not hesitate to contact me via e.maliepaard1 [at] gmail.com when you have any queries, suggestions, or have no institutional access to my works.