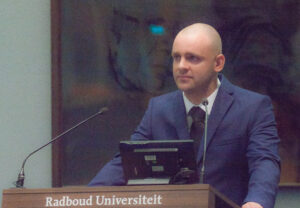 (copyright Erwin Heyl)
Dutch Dit is de website van dr. Emiel Maliepaard, opgeleid als sociaal en cultureel geograaf (Universiteit Utrecht) en gepromoveerd op onderzoek naar geografie van biseksualiteit (Radboud Universiteit). (Bi)seksualiteit is zeker één van mijn belangrijkste expertises, daarnaast schrijf ik ook regelmatig over andere onderwerpen zoals militarisme, stadslandbouw en gezondheid/welzijn. Ik doe voornamelijk kwalitatief onderzoek, maar ben als Utrechtse geograaf goed geschoold in kwantitatief onderzoek.
Wil je meer weten over mijn onderzoeken kijk rond op mijn website (bijv. de pagina's met publicaties) of contact me via e.maliepaard1 [at] gmail.com. Valorisatie van kennis – door advies, onderzoek, een presentatie, of mediabijdragen – vind ik erg waardevol.
English Welcome to my website! I am originally trained as a social and cultural geographer but consider myself as a social scientist with a geographical perspective. (Bi)sexuality is one of my main expertises, but I also wrote (and continue to write) about other topics such as militarism, community gardens, and gendered realities. Most of my empirical studies are based on qualitative research methods, although quantitative methods prevailed in my bachelor (human geography, Utrecht University). 
This website is predominantly targeted at a Dutch speaking audience, please visit the ' academic passport' area for all information in English: information about my recent and current studies, (peer reviewed) publications, research interests, memberships, and academic efforts. Please do not hesitate to contact me via e.maliepaard1 [at] gmail.com when you have any queries, suggestions, or have no institutional access to my works.
18/02/2021: the academic passport section will be actualised shortly. Publications are pretty much up to date.