Articles
Spierings, B., Van Liempt, I. & E. Maliepaard (2018), Ownership and membership: Practices and experiences of neighbourhood residents in the Wijsgeren Community Garden in Amsterdam. Tijdschrift voor Economische en Sociale Geografie 109, 5, 677-684. (open access)
Maliepaard, E. (2018), Spaces with a bisexual appearance: Reconceptualizing bisexual space(s) through a study of bisexual practices in the Netherlands. Social and Cultural Geography, 19 pp. (open access)
Maliepaard, E. (2018), Disclosing bisexuality or coming out? Two different realities for bisexual people in the Netherlands. Journal of Bisexuality 18, 2, 145-167. (open access)
Maliepaard, E. (2017), Bisexuality in the Netherlands: Connecting bisexual passing, communities, and identities. Journal of Bisexuality 17, 3, pp. 325-348.
Maliepaard, E. (2017), Bisexual safe spaces on the internet: analysis of an online forum for bisexuals. Tijdschrift voor Economische en Sociale Geografie 108, 3, pp. 318-330.
Mussies, M. & E. Maliepaard (2017), The cyborg mermaid: (or: how technè can help the misfits fit in). Multimodal Tecnologies and Interaction 1, 1, art 4. (open access; published conference proceeding) 
Maliepaard, E. (2015), Bisexual Spaces: exploring geographies of bisexualities. ACME: An International E-Journal for Critical Geographies 14, 1, pp. 217-234. (open access)
Maliepaard, E. (2015), Bisexual citizenship in the Netherlands: on homo-emancipation and bisexual representations in national emancipation policies. Sexualities 18, 4, pp. 377-393.
Maliepaard, E. (2015), Bisexuals in space and geography: more-than-queer? Fennia: International Journal of Geography 193, 1, pp. 148-159. (open access)
Maliepaard, E. (2015), War and peace monuments in the Netherlands: some case studies.[Oorlogs- en Vredesmonumenten in Nederland: enkele case studies] Vrijetijdstudies 33, 1, pp. 37-47. Special issue on Dark Tourism.
Maliepaard, E. (2013), Sexual interactions in nightlife: Brighton & Hove case study (UK). [Seksuele interacties in het nachtleven: case study uit Brighton & Hove (VK)] Vrijetijdstudies 31, 2, pp. 23-33.
Guest editorial
Maliepaard, E. (2018), Introduction to the special issue: EuroBiReCon: (inter)national research frontiers. Journal of Bisexuality 18, 1, pp. 1-14. (open access)
Book chapter
Maliepaard, E. & J. van Lisdonk (2019), Online dating practice as a perfect example of interwoven worlds? Analysis of communication in digital and physical encounters. In: Nash, C.J. & A. Gorman-Murray (2019), The Geographies of Digital Sexuality (pp. 137-157). Palgrave.
Dissertation (Published)
Maliepaard, E. (2018), Bisexual Rhapsody: On the everyday sexual identity negotiations of bisexual people in Rotterdam and Amsterdam and the productions of bisexual spaces (pp. 181). Ede: Print-Service Ede. ISBN: 978-94-92679-50-5. (open access)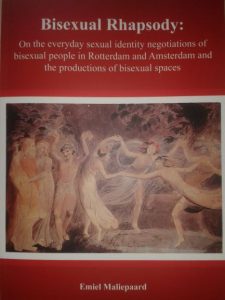 Book review
Maliepaard, E. (2017), Surya Monro, Bisexuality: Identities, Politics, and Theories. Sexualities 20, 1-2, pp. 255-257.