The book
The anthology Bisexuality in Europe: Sexual citizenship, romantic relationships, and bi+ identities was published on the 2nd of November. This book, edited by Emiel Maliepaard and Renate Baumgartner, is the first of its kind that brings together state of the art research from Europe on bisexual/plurisexual people. The e-book is open access. Bisexuality in Europe received the Bisexual Book Award for Best Non-Fiction Book of 2020.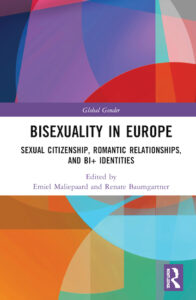 Contributors range from established scholars such as Nikki Hayfield and Christian Klesse to early career researchers as Annukka Lahti and Nicole Braida as well as PhD Candidates Robin Rose Breetveld and Zeynab Peyghambarzadeh. Their various academic backgrounds – e.g. anthropology, geography, psychology and sociology – make it an exciting interdisciplinary exploration of European work on bisexuality/plurisexuality.
The book introduces the reader in the emerging and quickly developing field of European bisexual studies. It delves deeper in bisexual citizenship such as bisexual asylum seekers and the intersection between the Church and plurisexual people, romantic relationship diversity and experiences of bisexual/plurisexual people, and discusses the various positions of bisexual/plurisexual identities in our social world and in academia. Finally the editors discuss various ways forward to strengthen bisexual theorising and bring bisexual studies to the mainstream of the social sciences and sexuality scholarship.
Review
"A much needed anthology of bi+ research and theory, beyond the standard Anglo-American focus. This book brings together a wealth of exciting and important chapters from a diverse range of locations and perspectives, with a particularly rich exploration of bi+ relationships of all kinds. A must-read for sexuality and relationship scholars."
— Meg-John Barker, author of The Bisexuality Report, The Psychology of Sex, and Sexuality: A Graphic Guide.
Open access
Thanks to the Knowledge Unlatched Scheme we are happy to announce that the eBook (click here) will be Open Access. The editors both support free access to scholarly content and thank Routledge for the opportunity to participate in this scheme.